It's Kitten Season, and dozens of youngters are filling shelters, and rescues.  We have a rescue story for you that was a dramatic 'touch and go' but, with what we hope will be a happy ending.  Let me tell you about the couple of absolute cuties currently in our care.
A look at KITTEN SEASON with Place for Cats
Meet Tallulah Tuley and Pearl Puley
Tuley and Puley were frail and struggling bottle babies pulled from ACC. The pair are growing up but as Director Mia Lancaster says, 'It hasn't been a walk in the park for these two'.  The two little boys turned out to be girls and their names names were slightly changed, but let Mia Lancaster tell you their story…..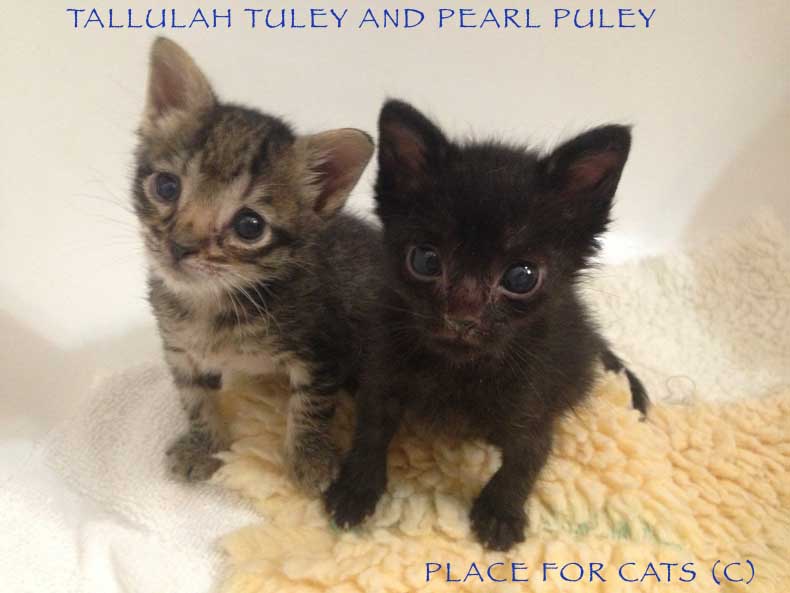 Weighing only 5 ounces and not gaining weight for weeks, they were treated by 3 vets, with rounds of clavamox (didn't work), minicycline (didn't work) and now doxycycline (still on it.) The babies required sub-q fluids, nebulization for hours throughout the day and night, and eye ointment administrations as well as hand-feeding by syringe every couple hours. So this not only takes $$, it takes time and dedicated care.
Thank You from Tallulah and Pearl!


Kitten Season – The Touch and Go Drama!
First, the tabby crashed; then the black sister was close to being gone. The babies just wouldn't swallow more than a few drops at each normal feeding so the efforts had to be stepped up to getting a few drops of KMR kitten formula into them every hour.
The kittens are now gaining weight and taking 3/4 of a bottle at each feeding. They now are ravenously consuming their bottle though still not canned food yet. At 5 weeks they should weight at least a pound or more but they're still small, just 9 ounces. They still are congested but not so much that they refrain from playing.
It is this very important willingness to play that gives us such joy and hope for Tallulah Tuley and Pearl Puley.

Our Twosome's details….
This twosome, and the other neonatal kittens in our care are looking forward to September adoptions on our PetFinder page. So if you are keen to be introduced in a month or two – please get in touch.  [Email and telephone are both here].
If you can't wait! Check out our cute as buttons kittens who are available now here
As Tallulah and Pearl were pulled extremely quickly, there was no chance for us to ask for pledges on the Pets on Death Row pages of Facebook, so any donations you can make towards their care would be gratefully received.
Marjorie Dawson
Kitten Season Reporter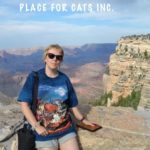 Extra Information:-