Regular readers know we support our hard working foster network and rescue with Amazon Smile, so this week I want to show some tech treats for cat lovers in the USA. You will just love to have one of these in your home.
Tech can be a real help to cat owners. It is not all scary and unfamiliar stuff. I know that you as cat parents of every age will absolutely love some of these treats and if you buy through Amazon Smile you help Place for Cats without lifting a paw finger.
Let me introduce our dazzling array of high tech treats for humans!
I have tested the 720p video model, Petcube Play with my own fur family. It has 2-Way Audio, a built-in laser toy and is available in three colours; matt silver, rose-pink or black.
It is the most reassuring pet monitor on the market and fits comfortably into home decor from the super stylish to the studio, and it's a lot of fun!  The interactive pet camera allows you, the cat parent, to keep a constant eye on their fur family at home no matter where you are. In best pet camera reviews the Petcube Play scores top marks.
Let me point out some of the finer points:
The camera is good quality, and has a nice wide-angle lens 138 degrees. So, no wishing you could move the camera, just – a – bit…
The camera has two-way audio so you can chat to your pet.
It has non slip feet and a chewproof cord!
The Petcube has a controllable 5mW laser beam. The laser is safe, but, respect the product and what lasers can do OK?
Your smart phone can take photographs or video footage of your pet in action for you to show off.
For our second item. The Houdini cat takes the spotlight, or maybe how you find your Houdini kitty! Think that your cat won't go missing, even in an apartment full of small hiding place. Wrong! So you need Tabcat.
Meet high Tech Treat – Tabcat
Cats need to be identifiable, and locatable, inside and outside the home as much as possible. So let us introduce you to one of the most exciting cat developments we have seen in a long time. For every pet owner who has real cat 'finding' issues, the best cat locator – Tabcat is fantastic news.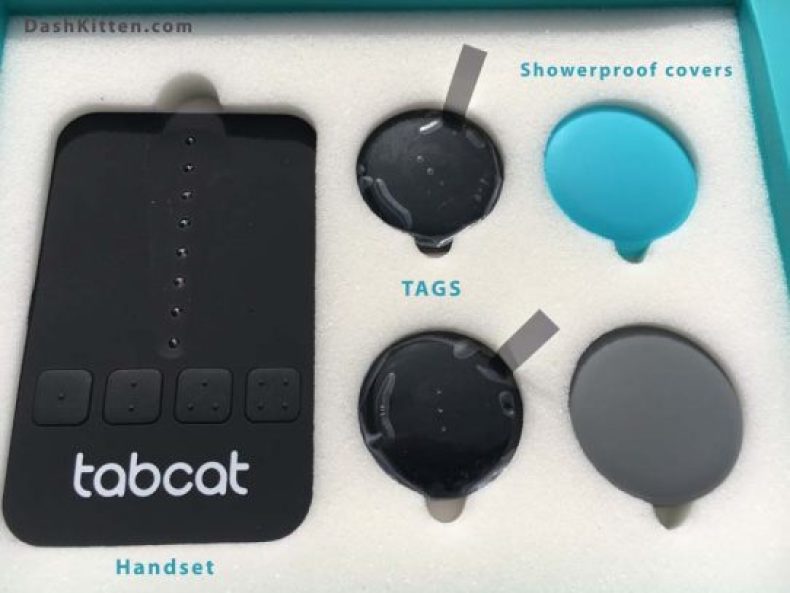 It is simple to set up, and super easy to use. Check our video below for an idea of the dimensions, and a cool sample of cat finding! Each tag is linked to the handset by you, and there is room for up to four tags (4 cats or 4 items) on one handset. So in a multi-cat household no-one gets left out.
The basic Tabcat set contains:-
A slimline Handset. The handset is about the size of a credit card – slender and lightweight. We keep ours by the back door.
Two Tags
Shower proof Covers for the tags. These also attach the tags to collars.
An illustrated User Guide that is easy to use, with an online copy on the website.
Note:- Spare tags, and covers are available for a modest extra cost.
Meet The TABCAT Cat Tracker on Vimeo.
Finally, while not high tech, our next item has easy care at the top of its list of talents!
RAINDROP Stainless Steel Cat Drinking Fountain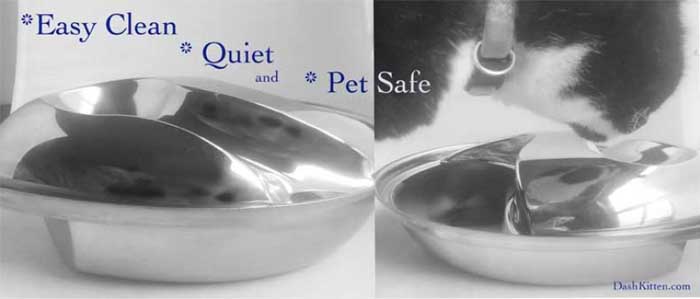 This gem of a drinking fountain from Pioneer Pet is part of a range of steel or ceramic range that is stylish and which every cat will love to drink from. Maybe not a tech treat but a real stylish luxury for your pet.
I have one of the stylish steel models and our senior cat was the first to approach it. he is its biggest fan as it is quiet and also the filters are so easy to replace. Let me give you a quick rundown of the fountains highlights that caught my eye:
The Raindrop's super stylish polished Stainless Steel shape
The generous capacity of 60 oz. (1.77 litres) of water
It's easy to clean
A quiet pump with replaceable Premium Charcoal Filters (changed every 2 to 4 weeks depending on usage)
A cat safe low voltage 6'/1.82m power cord
Dishwasher friendly.
The Raindrop Drinking Fountain from PioneerPet.com
Any of these Tech Treats will be helpful, and fun and make life easier for every pet lover. So why not gift one to your favourite cat lover, or their cat today! Place for Cats uses Amazon Smile and in 2017 we need your much valued support as much as ever.
Happy Christmas and shop Amazon Smile for Place for Cats!
Marjorie
High Tech Treats Reporter