Our cat rescue Tiger is due an update and our director Mia Lancaster is happy to pass on the following news:
Tiger is in his 4th month of quarantine for bites of unknown origin. He is a DOLL! He's been given a clean bill of health on his monthly DOH-mandated vet checks and will be going in for neutering next week. Tiger will be available for adoption before you know it. Please read about this wonderful guy in Place For Cats' blog and please share his story.
This courageous 'tiger in our tank' came purring in for January at Place for Cats. He is a young and sweet tabby boy named Tiger.  He has quite a story. Sadly,  he can't tell us much, but we can make some informed guesses so let us tell you about his dramatic rescue.
Tiger is the sweetest natured cat you could ever imagine and his story will have you cheering on his courage and resilience.
The Tiger in the Tank's Story
Tiger was surrendered to ACC in New York with bite marks. He was given up (we gather, from the written records) by his family.  This family either refused or could not say how Tiger had been bitten.  Because of this a Department of Health (DOH) hold was placed on our young friend.
This 'hold' (quarantine) meant that, for Tiger, things were about to take a frightening and dramatic turn. He would be euthanised unless a rescue stepped up to provide the quarantine accommodation requested by the DOH.  This seems unfair but the DOH had a reason. The family's refusal to state the source of the bites forced ACC to declare quarantine due to the (minor) risk of rabies.
You might ask, why couldn't ACC keep him? The hard truth is ACC doesn't keep any cat for six months and so Tiger's situation was perilous.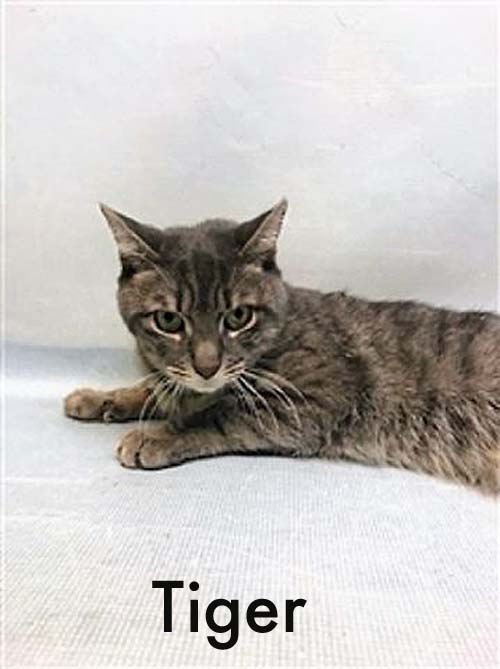 How We saved Tiger!
Place for Cats stepped in knowing Tiger had no other chance but us.
Only a small patient rescue like us can go the extra mile Tiger needed. For 10 long days, we negotiated patiently with the DOH to ensure we complied with their requests. The Rescue Director and our official Foster have had to sign contracts keeping Tiger apart from any other cats and humans in his foster home. We will also deliver him for a carefully agreed schedule of visits to a veterinarian.
Tiger's current medical Report
Tiger's entire pelvic area has been shaved, which looks dramatic but he has just one wound that is still healing.  In spite of his trauma Tiger remains a patient and sweet soul. He has developed a minor sneeze but with the help of Clavamox he has not developed shelter cough. Tiger is currently limping and carrying his rear left leg. We cannot tell if this is temporary due to the bite and its aftermath, but Tiger will visit a neurologist after his end of month vet visit for further assessment.
NOTE: So many adoptable cats die due to the affliction of shelter cough as it makes them unattractive and less likely to be adopted.
Tiger is coping well with the Elizabethan (Buster) collar that prevents him licking his wound and he returns to City Veterinary Care on January 30th for his next check up.  He has been 'knocked back on his paws' but we at Place for Cats are optimistic that he will make a full recovery.  We have seen shaved areas of cat fur and know, from our experiences, that Tiger will regain his gorgeous tabby coat within a few months. He will be adoptable after the end of June and we will keep you up to date on our young hero's progress.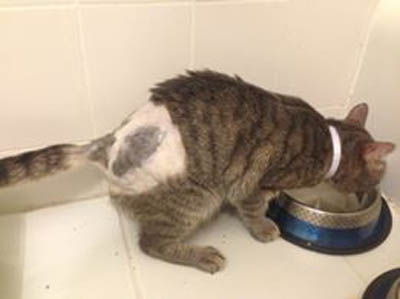 What the Heck Happened to Poor Tiger?
We can only guess, drawing on the details of his surrender, and the medical assessment by the veterinarian.
We suspect a negligent visitor may have brought a dog to visit the family. This dog may possibly have attacked Tiger. As the family refused to give details of who or what bit Tiger, there was no choice but to  put him in temporary quarantine.
Our Rescue Director says "The risk of rabies is remote but since the family would not state the source, NY law mandates the six-month hold"
How Is Tiger Doing?
Step by step Tiger is getting better but he still needs medical support so we are turning to you, our supporters and friends, as this sudden event had bitten deep into our limited funds. Will you donate to help us get Tiger fit and healthy and ready to walk confidently into a forever home? No amount is too small or too large 🙂  and every donation will help his journey towards recovery.
We are proud to help a cat in desperate need. Please join us and donate today.
Marjorie
Place for Cats